You may have seen them on TV, know a relative that lives in one, or even have one down the block — we're talking about hoarder houses.
What exactly is a hoarder house? And if you happen to have inherited responsibility for one, you might be wondering if you can sell a hoarder house.
Let's start with a definition. A hoarder home is a house that has been lived in and often destroyed by a person with hoarding disorder, which is a diagnosable mental condition according to the American Psychiatric Association's latest edition of the DSM.
That's the manual that mental health professionals use to diagnose mental disorders.
Hoarding is a perceived need to acquire, and not get rid of, endless amounts of things. A person with this condition may feel extreme stress when someone even suggests getting rid of something, even if that something is trash in the eyes of others.
This can result in some very unsanitary and unsafe conditions.
According to the Mayo Clinic, hoarding often leads to "such cramped living conditions that homes may be filled to capacity, with only narrow pathways winding through stacks of clutter…
Hoarding ranges from mild to severe… People with hoarding disorder may not see it as a problem, making treatment challenging."
These individuals often live in this environment for years, and when they pass away or move into a home, they may leave their home to family members.
On top of the sorrow of losing a loved one, these involuntary homeowners are now stuck with figuring out how to either clean and use the home or sell it.
With so much stuff, selling a hoarder house feels daunting to the point of impossible.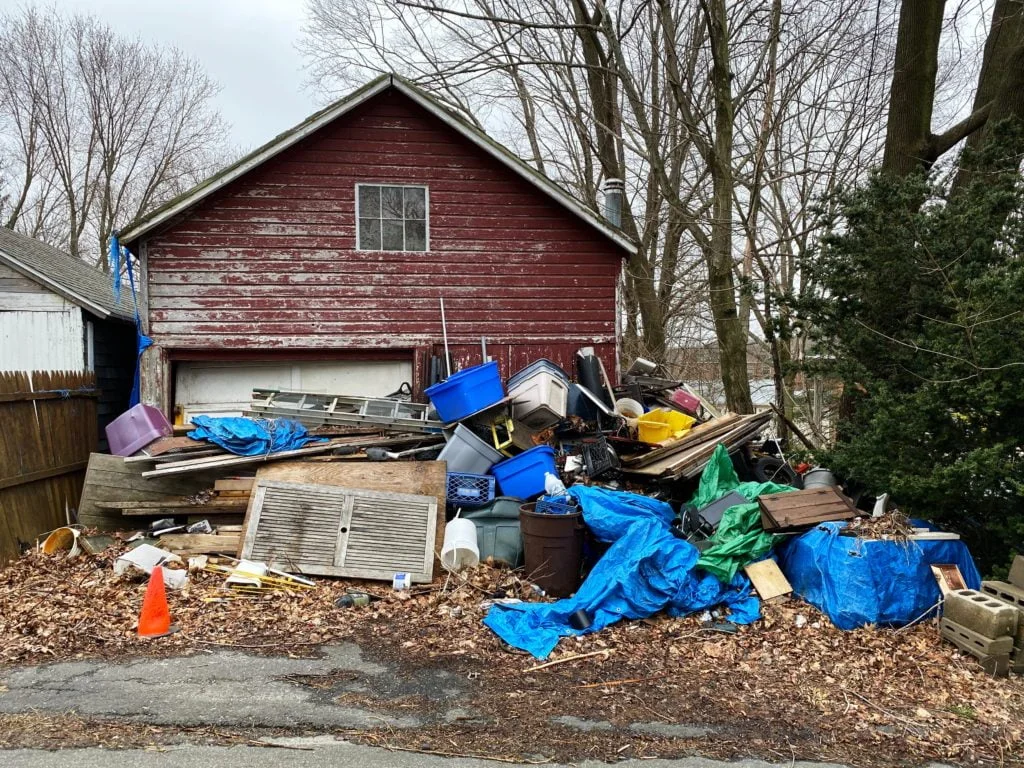 Should You Try to Sell a Hoarder House?
So you've taken ownership of the home. Now what?
Hoarding situations are always complicated. If you want to get what the home is worth on the open market, you must fix everything and turn this ugly duckling into a swan. That's what prospective homebuyers expect.
That not only takes extra time. To renovate a hoarder house and get it in market-ready order may take a lot of money.
The condition of a hoarder home often comes about from years of neglect and will need a lot more than a fresh coat of paint. Some common scenarios when repairing and selling hoarder houses include:
Structural problems
Dead animals
Rotten walls and floorboards
Biological waste (animal, and sometimes human)
Major problems everywhere
Extreme cleaning crew and heavy-duty cleaning equipment needed
HAZMAT protective clothing for dangerous chemicals or infectious disease
Heavy odors that completely permeate surfaces. Walls, ceilings, floors, counters–all may have to be removed.
That's so much work beyond a normal home that may just need paint and necessary repairs. It's a full-time project.
You might want to hire a trustworthy contractor who can organize a crew for clean-up, interior demolition, and repair when selling hoarder houses.
What Does It Cost to Clean-up a Hoarder Home?
This can vary greatly and can depend on where you live and the extent of the damage. Hoarder house cleaning costs may be higher in San Francisco versus Nashville, Philidelphia, Atlanta, or Houston, for example, since the cost of living is different.
According to FIXr.com, the national average for mild hoarding cleanup is $3000-$5000 for a 2000 square foot home, or roughly $1000/day for larger projects.
But they note that if there are human wastes, hazardous materials, and other extreme cleanups, the same space could be upwards of $25,000.
FIXr breaks down some of these costs. Warning, some of these will be hard to read, but it's important to understand where these added costs may come from.
Animal feces removal – $25/bag, which may include walls and flooring that have to come out because waste has been sitting on them.
Biohazard – Up to $600/hour. If the person had a contagious disease, for example, COVID, this would be on top of other costs. You would not want to let someone go into clean up without telling them about problems you are aware of.
Crime scene cleanup – $600/hour
Unattended death from natural causes varies, depending on how long it took to claim the individual from the home
Sewage backup – $10,000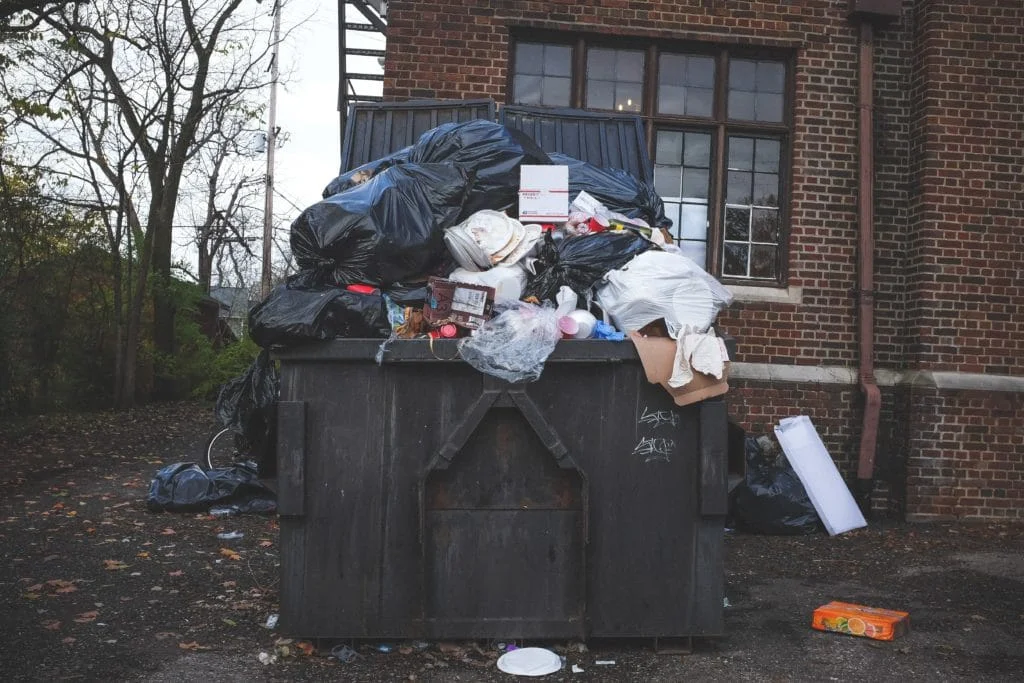 That doesn't include making the home sell-ready. That's just getting the personal items and trash out so that they can clean as much as possible.
There is no telling what they find when they start pulling things out to the dumpster. Once the place is clean, expensive home repairs may await you. These costs can vary widely, depending on what they find under the hoarding.
And the cleanup may extend into the yard, making this an even bigger project.
So selling a hoarder house it the old-fashioned way may not be your best option with these homes.
Do Real Estate Agents Specialize in Selling Hoarder Homes?
Most real estate agents will be at a loss with what you do to help a family sell a hoarding house. Just like you, they don't want to take on the work required to fix up and sell a hoarder's house.
Real estate professionals are not typically equipped to handle this.
Generally, when you work with a real estate agent, you're asking them to list your home on the open market. You would only want to do that if you chose to clean and repair it to get it market-ready.
But what if you chose to work with a real estate agent without fixing it up? Could you sell a hoarder house as-is on the open market? It's not impossible if you take really good pictures inside.
However, what you need to consider is the fact that this is not discreet for your loved one or your family. These pictures will be public. They will show the living conditions of your loved one.
We understand that this home's condition is possibly the result of a mental or physical health condition. But you may or may not feel comfortable showing the world the extent of it.
On top of that, finding prospective buyers when selling a hoarding house will be no easy task.
Generally, in these circumstances, you will only get offers from real estate investors, not a family that wants to fix it up and live in it. Selling to real estate investors is an entirely different type of home sale than what you might be used to.
Where Do You Find Potential Buyers?
That's what we are here for! Instead of searching for buyers willing to work with hoarded conditions, sell directly to HomeGo. We are sensitive to the situations family members find themselves in when selling hoarder homes.
We buy any home as-is. Our licensed real estate agents can complete a virtual or in-person walkthrough and often make you a fair cash offer the same day.
Skip the cleanup and the repairs. Avoid unexpected costs once you begin trying to dig through personal items. Don't waste time on what may end up being a money pit.
We can close in as little as 7 days, and you can move on from this difficult situation at least as far selling the hoarder house is concerned. You can sell your home with confidence when you sell to a trusted national company like HomeGo.
If you find yourself in this situation, we encourage you to reach out to HomeGo to schedule a walkthrough today.