Home sellers may ask are bandit signs and "we buy houses" flyers illegal? It's a common question and one to consider. Even if the term isn't familiar, it's likely you've seen bandit signs. From garage sales to promoting candidates for local elections, bandit signs may be found in every size city.
Bandit signs also are used in the real estate community to indicate a home for sale, announce an open house, and by scammers trying to make quick money by buying houses that may not sell traditionally.
What Are Bandit Signs

?

Bandit signs are simply yard signs. Real estate bandit signs, can and do include the basic "House For Sale" sign posted in a seller's yard. However, it has become common to also see signs proclaiming "We Sell Your House for Cash" or "We Buy Houses" flyers in many communities. These signs appear at busy intersections, along main routes, and in areas with heavy foot traffic.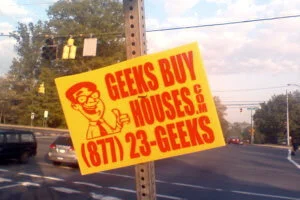 Are Bandit Signs and "We Buy Houses" Flyers Illegal

?

Drive through almost any community and you'll see "We Buy Houses" signs. These bandit signs rarely have much more than a few words and a phone number. Some may just have the "We Buy Houses" with a website URL and no phone number.

Are bandit signs illegal when they're posted at an intersection or the off-ramp of the highway? The answer is, most of the time, yes. Bandit sign laws can vary by municipality and as with anything, it's "buyer beware" when you choose to contact the number or website promoted on the sign.
Bandit Sign Laws
Rules regarding bandit signs vary by state, by town/city, and even by subdivision/community. These rules not only cover the scammy "We Buy Houses" signs but legitimate signs posted by well-meaning real estate agents.
For example, Think Realty reported that in California a real estate professional attempted to promote an open house using bandit signs to draw in traffic. However, the agent failed to check an ordinance specific to the development where the open house was to occur. The agent was fined $250 per bandit sign.
In Texas, the city of Houston has strict bandit sign regulations. "Violators are subject to a fine between $300 – $500, can be taken to court, as well as have a warrant issued for their arrest for breaking Chapter 28 of Houston's code of ordinances."
San Antonio is another Texas city with bandit sign problems. Local news reports that more than 76,000 illegal signs were removed in 2018, costing the city about $180,000.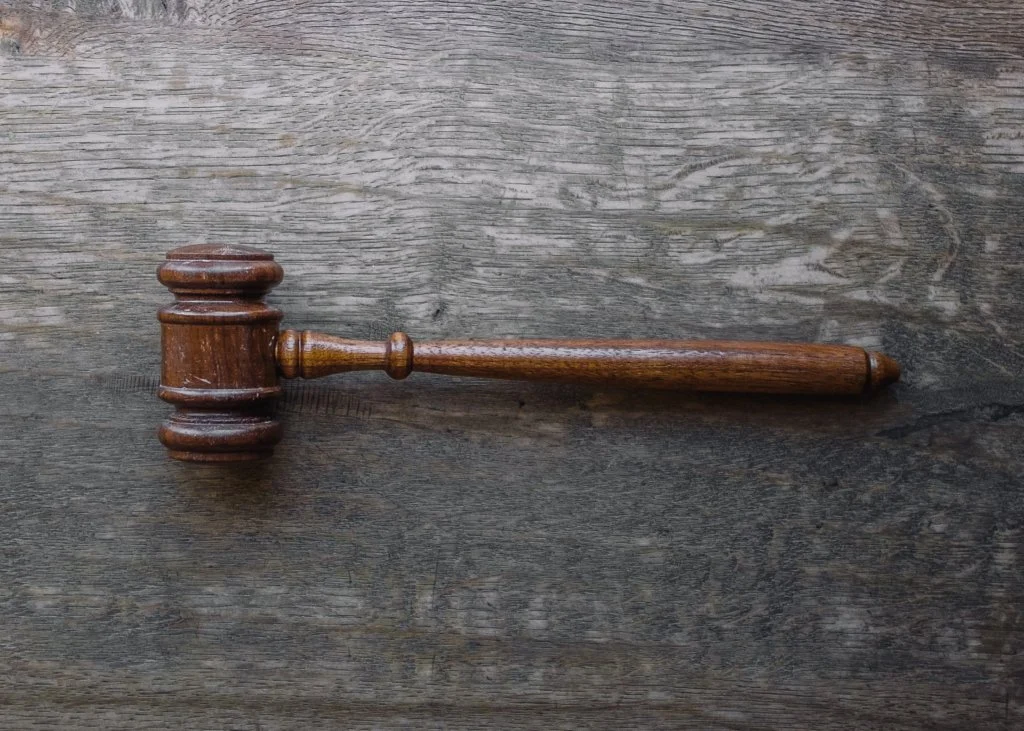 Cities in other states like Florida have resorted to robocalling programs to crack down on the influx of bandit signs the pop up like annoying weeds, seemingly overnight. These robocalling programs contact the number listed on the sign and inform them that a fine must be paid to stop the calls.
It's $75 for first-time offenders and the price goes up: $150 if there has to be a second call, and $250 for the third.
In Georgia, it can be a misdemeanor charge if you place a bandit sign in the wrong place. Bandit signs are not allowed in the "right of way" which means if they're too close to state roads and highways, they can and will be removed.
Bandit Sign Negatives
One of the biggest complaints about bandit signs is that they're eyesores. They can be distracting to drivers and make an intersection look ugly. In addition, some real estate bandit signs are the handiwork of scammers who are not legitimate.
Licensed real estate agents follow strict regulations for advertising. They can't have handwritten signs, and they must ensure their status as a licensed agent is apparent in all advertising, according to the National Association of REALTORS® (NAR) 2019 Code of Ethics & Standards of Practice. HomeGo uses licensed agents when selling your home, which is why you won't see us with bandit signs.
How Do I Know Who to Trust?
When you're ready to sell your home and see signs advertising phrases like "sell my house fast" or "we buy houses", it's important to do your research because not all cash buyers are reputable. Be sure to ask the right questions to see if a buyer is up to par.
Will anyone look at my property?
What fees do I have to pay?
What is the reputation of the company?
Do I have to pay anything upfront?
When can I expect to be paid/where is the money coming from?
Can they help clear an issue with my title?
Especially in oversaturated markets, sellers should expect to find that some home-buying companies are less experienced and ethical than others. The home-selling experience is more than just a fair offer and fast closing, sellers should also expect a high level of support along the way. The value of experience is priceless. HomeGo has helped
thousands
of sellers move out and move on and we're ready to help you, too. If you're ready to sell or just want advice on who to trust,
HomeGo.com
is filled with resources to provide you with a better selling experience. Check out our blog and resources page for more home-selling tips and information. Whether you're a homeowner, investor, or realtor and regardless of where you are in the selling process, HomeGo is here to guide and support you along the way.